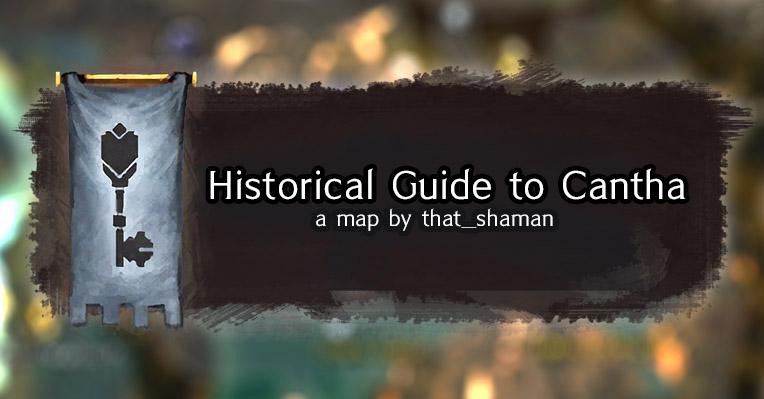 It's exactly two months after End of Dragon's launched and I finally finished the brand new Historical Guide to Cantha! After spending ages staring at both the Guild Wars 1 and 2 maps I have to say they did another terrific job transitioning between both games.
The new guide is fully interactive and will be updated with every season 6 update in the future.
Enjoy!
Links
Changelog
I've decided to split up the Historical guide to Tyria and Cantha. Maintaining gigantic photoshop files with thousands upon thousands of layers is an immense pain. This makes it easier for me to update it in the future
Almost everything in Guild Wars 2 lines up perfectly with the Guild Wars 1 map, but of course there are some minor differences mostly for technical or aesthetic reasons:

The harvest temple has been moved slightly west to line up better to the center of the Guild Wars 2 map
Shing Jea Island has been moved slightly south west but everything on it still lines up
The battle islands have been scaled up (they're bigger in Guild Wars 2)

The guide to Cantha is zoomed out slightly further than the guide to Kryta. Back in the day I decided to make the guide 10,000 x 10,000 pixels because that was the largest the image host would accept. This was a huge mistake because this also meant it was zoomed at 31.39223dfdsfe % (slight exaggeration) which made scaling and updating it a lot harder than it needed to be. The new guide is exactly 25% of the original Guild Wars 2 map.
Improvements relevant to both guides:

A Guild Wars 2 styled navigation compass has been added to the bottom right to quickly navigate between maps and regions
The sides of the map no longer snap to the side of the screen
Generated URL coordinates are now rounded to two decimals on high DPI devices
Ancient urls from before 2017 no longer work. Make sure to update these if you still use them somewhere

There are 199 points of interest, locations and zones on the new Guide and I probably missed one or two in the process, just let me know and I can put it on my todo list!